I often get asked by my less "geeky" friends on a easy-to-setup easy-to-use method of establishing a secure connection between two (or more) computers on the internet. The purpose of having such a connection ranges from simply sharing files, controlling a remote computer and even having a virtual LAN to connect together a geographically scattered community. I usually have a simple one word answer for all such queries: Hamachi.
Hamachi is a zero-configuration
Virtual Private Networking
(VPN) application that uses its own central server with encrypted communications. The software isn't open-source, it's method of encryption has a few unanswered questions and it relies on a central server beyond one's control, however, despite all that it admittedly is a very elegant solution to the traditional VPN. The ease of setup, the ease of use and its ability to work with NAT'ed connections render it a very attractive solution for use by anyone. Best of all, software is a free download of around 800Kb in size!
Once logged into the Hamachi network using the software, we can create our own virtual named networks that individual nodes can access by typing in the name of the network - quite similar to joining a channel in an IRC network. The virtual networks can have password protection so as to restrict access to known persons only. The application comes with its own chat facility allowing the user to strike up a chat with anyone on the Hamachi virtual network. The application is also configured to allow browsing another user's computer via Windows File Sharing/SMB - as per access restrictions of course. The neat thing here being that you can have File Sharing disabled for the Internet connection yet have it enabled for the Hamachi connection.
My PC at home in Male' is behind a NAT but is easily reachable via the Hamachi network that it automatically joins on whenever it is switched on. The Hamachi central servers rid me of the burden of having my own server as is required by standard VPN systems. The connection speeds on the Hamachi network is decent enough for most purposes including VNC use. This is an ideal solution for all those of you who want to create a virtual network to pool together all the friends and/or family or simply want to make your alternative PC easily accessible wherever you are...
The main Hamachi website is at
http://www.hamachi.cc/
. There is a handy guide on setting up Hamachi for optimal use at
http://www.itsatechworld.com/2006/01/17/hamachi-vpn-solution/
Enjoy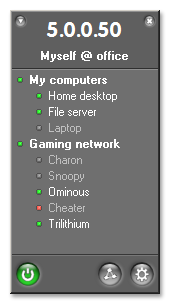 Screenshot [ Image from Hamachi.cc website]