I have owned a Google Nexus One device since it came out early this year and I love it for the great hardware specifications of the phone and the customizability of Android. As usual, one of the first things I did when I got it was to explore Thaana usage on the Android OS. I have been meaning to do a write up since, so after almost a year here it is finally! This post addresses getting Thaana to display by installing a Thaana font.
Overview
With a healthy ecosystem of phones and tablets running Android now available, the free and open-source Android mobile operating system seem to be getting more and more popular across the world and in Maldives. Its official app-store hosts a large number of applications, a lot of which are free, and there are a number of third-party app-stores with more relaxed rules around as well. There is a healthy and growing developer community that's taking advantage of the open code to add new features and hack in interesting modifications - like the Nexus One does not officially have a FM radio or support HD video but developers have added code hacks for both into
a custom ROM
!
As awesome as Android is, unfortunately, all versions of the official Android OS (including the latest version 2.2 (Froyo) release) has limited support for international scripts, which is bad news for Thaana. Android can display Thaana characters as it supports Unicode fonts but it looks all jumbled up when diplayed as Android lacks support for bi-directional text rendering, both in the OS and the included web browser. The lack of BiDi support means Thaana input is also impossible as Thaana is a right-to-left script.
The next version of Android, version 2.3 (Gingerbread), is scheduled to have BiDi support and
better support for international scripts
, so hopefully that fixes things although it still wouldn't officially support Thaana.
The only easy way currently, as far as I am aware of, of viewing Thaana on Android correctly is by using
Opera Mobile browser
with Thaana fonts installed in Android. Now, none of the Android-based devices on the market seem to ship with a Thaana-supporting Unicode font preinstalled and Android does not currently provide a mechanism for user installation of fonts which means the process of installing a Thaana font is a little bit convoluted.
Installing Thaana fonts
Next, you need to install the Thaana font. Chopey has already
posted a guide
on how to do it manually and Gaanagaa has
posted a Windows-based software
to do automatically for you. I favour a different approach which relies on using a special Zip file to update your Android with the Thaana fonts in a manner similar to how Android devices update themselves with new releases. This method is, in my opinion, a lot easier and you do not need anything other than a rooted phone and the zip file I have prepared to do it. I have packaged the
free FreeSerif font
which includes beautiful Thaana glyphs as well as a large number of other characters from other writing systems.
Using my Thaana fonts update for Android
1. Make sure your device is rooted. You will need a rooted device to install any font via any method, including this one. There are a number of guides and free software available on the web for various Android phones (try
xda-developers.com
or
modaco.com
or
samdroid.net
) to help you do just that.
2. Put
update_thaanafonts(jaa)_signed.zip
to the root of the SD card in your device. You can do this by downloading the file straight from the web on to the SD card of your device OR download the file to your computer first and copy it to your device using a cable or Bluetooth.
3. Power off your phone and boot into recovery mode. The specifics of how you do this depends on which recovery tool was installed during rooting of your phone but involves pressing some combination of keys at the same time to start your device in recovery mode. Try the
methods listed here
if you aren't sure.
4. Select the update from Zip option in your recovery tool and select the update_thaanafonts(jaa)_signed.zip file from the list and OK it.
5. The update should progress and will ask you to reboot once completed.
6. Congratulations you now have a Thaana font installed! To make any practical use of it, you will need to install the Opera Mobile browser application available for free on the Android Market.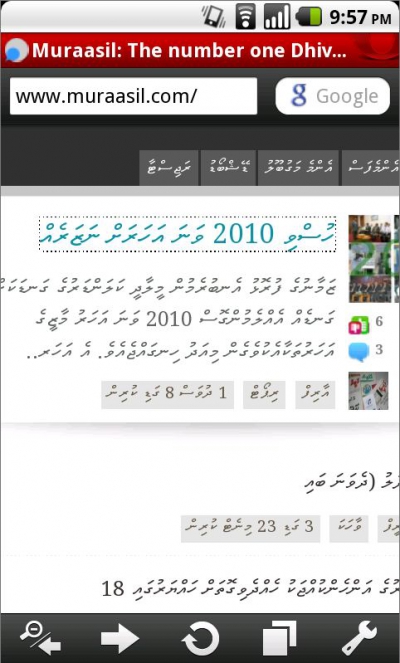 Enjoy