It is easter holidays for me at the moment and I seem to have more time on my hand than I can spend engaged in "productive" activities. So, in a moment of boredom this morning, I programmed a Dhiraagu telephone directory lookup application for Windows Mobile based Pocket PC and Smartphones.
The program allows you to search the entire Dhiraagu telephone directory. The directory data comes bundled with the application and allows for quick and cheap directory lookups to be performed right on your phone. The directory includes landline numbers as well as mobile phone numbers. This is like the ultimate phone book! The program should run fine on pocket pcs and smartphones running Windows Mobile 2003 and later.
The application does require .NET Compact Framework to be installed. That shouldn't be a problem to Windows Mobile 2003 SE and Windows Mobile 5 devices as they comes with the framework preinstalled. The application takes up about 8Mb on the device, so make sure you install the program onto a SD card or whatever expansion storage supported by your device. The program can be installed simply copying the provided CAB files onto the device and executing them on the device.
Note: Windows Mobile 5 comes with application locking so that only digitally signed applications are allowed to install and run. You will need to remove this locking mechanism to allow your device to run the directory software. Here is a
guide to removing application locking
.
Download:
-
Pocket 110 v1.0beta2 for Pocket PC (WM 2003/SE, WM 5.0)
-
Pocket 110 v1.0beta2 for Smartphone (WM 2003/SE, WM 5.0)
Screenshots: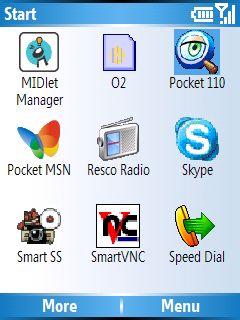 Feel free to download and spread it. Drop a line in the blog comments if you have any suggestions, comments or just want to thank me (or whatever...)
Enjoy!