Friday, August 29. 2008
Earlier this week, Mozilla Labs released a very interesting (and useful) new extension for Firefox called "
Ubiquity
". It basically taps into the services provided by web services to integrate them better into the browsing experience. For an introduction to Ubiquity, it'd be best to read the
post on the Mozilla Labs blog
where the product was launched - the
video featured
in the post presents quite impressive practical enhancements to the browsing experience made possible by the product.
Radheef for Ubiquity
Radheef for Ubiquity adds the verb 'bas' to Ubiquity to facilitate quick and easy look up of definitions of Dhivehi words from any Thaana web page using the
Radheef
. To lookup a word you find on a Thaana web page, you can either select the word and bring up Ubiquity. Alternatively, you can type the word in to the Ubiquity command window. The definition results are shown immediately within the Ubiquity command bubble.
To install this, visit the
Radheef for Ubiquity
page after Ubiquity is installed and follow the normal verb installation steps.
Screenshots:
In use on a selected word on the Unicode-based Jazeera Daily website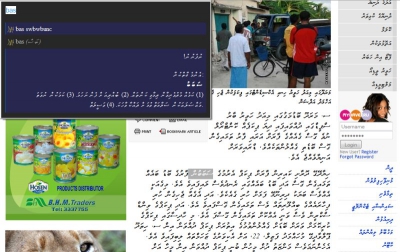 In use on a selected word on the Ascii-based Haveeru Daily website. It offers helpful suggestions if no result is available for query word as-is.
Happy browsing